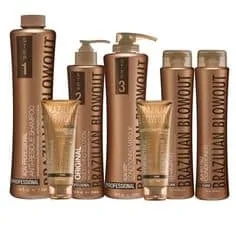 Brazilian Blowout: The Best Treatment for Boston's Humid Weather
Springtime weather is almost here, along with the rain and humidity that come with it. Does your hair get frizzy this time of year? Do you want to speed up your styling time? Do you have wavy or curly hair, and want to keep your hairs shape while reducing the frizz? The best option for you may be a Brazilian Blowout Smoothing Treatment!
This in-salon treatment takes about 2 hours, and leaves you hair smooth, manageable and frizz-free for at least 3 months or more! You will find you hair air-dries without unwanted frizz or volume, or if you blowdry, it will reduce you styling time and effort.
The Brazilian Blowout Smoothing Treatment can be customized by your stylist for whatever hair type and end result you are looking for. You can smooth and slightly straighten your hair or you can keep your curl or wave!
We also carry everything you need to help maintain your treatment at home. A sulfate-free shampoo is a must, as it helps maintain the treatment. Amaci Salon carries Brazilian Blowout Anti-Frizz Shampoo and conditioner, as well as conditions masks and styling products, catered to help maintain and manage client's with hair treated with Brazilian Blowout.
Visit Amaci Salon, one of Boston's best salons for Brazilian Blowout Treatments, as well as color, hair-cutting, and anything else you may need to have the hair of your dreams!